More info
The Diva Wrap Conversion is a full buckle baby carrier that can be used from birth up to 2-3 years. It is sewn from Diva baby wraps, and can be used for front and back positions.
The DIVA Buckle Baby Carrier advantages
Simplicity and speed to put on, children can be worn on the front or on the back.
The carrier does not provide a facing-out baby position, which is not optimal for the baby, uncomfortable for the wearer and is not recommended by babywearing experts.
Excellent baby spine support and correct spread-squat ('M-shape) leg position at any age: from birth (with insert) or 5 months (without insert) to 3 years.
The 'M-shape' leg position with baby's knees higher than his bottom and legs spread apart at 90° is considered the most anatomically correct for babywearing. It is most similar to baby's position in your arms.
Wearer's comfort due to wide padded shoulder straps (can be worn in parallel, like rucksack straps, or crossed) and a wide padded waist belt.
The DIVA carrier is perfect for prolonged carrying (over half an hour) due to it perfectly distributing weight across both of the wearer's shoulders, the back and waist.


Comfort and softness for both the baby and the wearer provided by special soft, loose-woven fabric with a good bounce, initially produced as a Diva woven wrap.
Sling fabric is specially woven for babywearing, unlike regular fabric it has a lower weave density and greater thread thickness.
Special Features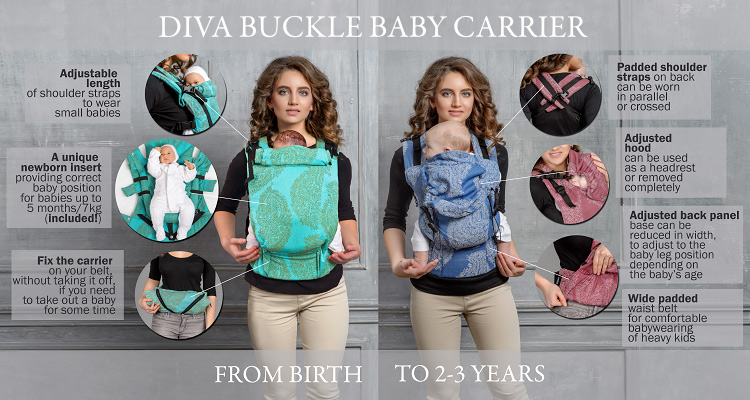 a unique patented newborn insert provides the correct baby position for babies up to 5 months (height less than 66 cm and weight less than 7 kg) (insert included);
a removable sleep hood that can be attached with a buckle on each shoulder strap can be used as a headrest to support the baby's head; a hood is adjustable on sides and on top;
comfortable wide padded shoulder straps can be worn in parallel or crossed;
unpadded front part of shoulder straps can be adjusted in length to suit the baby's size and ensure comfortable backwear;
the adjustable back panel base can be reduced in width for babies up to 5 months, to adjust to the baby leg position;
a wide padded waist belt provides superior comfort in wear even for heavy kids: this is ensured by a slightly bended form and special hard padding for better durability;
special straps sewn into the belt to fold the carrier and fix it on a belt when the baby is temporarily out.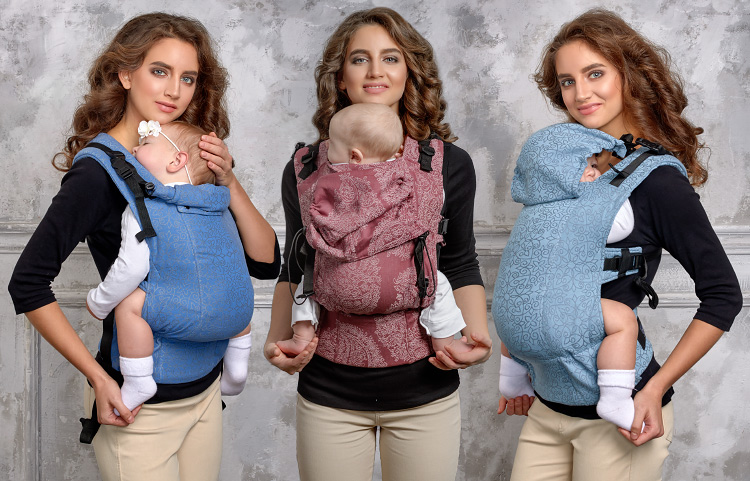 Unique Newborn Insert
To carry a baby younger than 5 months (height less than 66 cm and weight less than 7 kg), you need to use our special detachable insert (included). The patented Diva buckle carrier newborn insert not just reduces the space inside the carrier, but provides its ergonomic, natural position similar to that in woven wraps.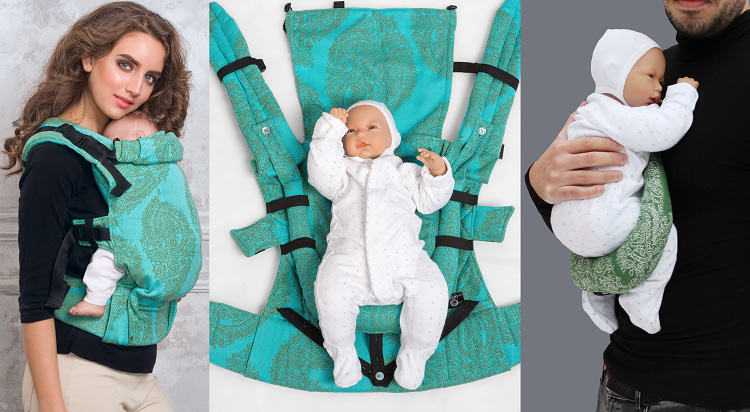 Package
The carrier is packed in a backpack from the same fabric!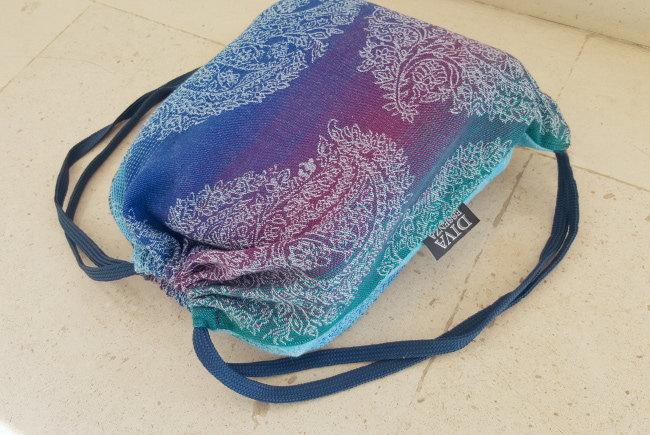 Dimensions
Height of the carrier back - 40cm;
Adjustable width of the back 26-44cm;
Waist belt 70-135 cm;
Adjustable shoulder straps: 40-117cm;
Age: can be used from birth up to 2-3 years;
One size (suitable for a waist up to 160cm);
Fabric: 100% cotton jacquard weave;
Surface weight: 250g/m²
Recommended Baby Sizes:
With a newborn insert, higher position: 56-62cm;
With a newborn insert, lower position: 63 -69cm;
Without a newborn insert: 70cm - 92cm.
Designed in Italy, manufactured in Russia.
Meets ASTM International Standard F2236-14, approved January 2014.
Meets European Standard EN 13209-2, approved August 2005
Care instructions: machine wash at gentle cycles and low temperature, do not tumble dry.