Detailed product description
Ergonomic and growing carrier for children from approx. 2 months approx. 58 cm to a child's height of approx. 98 cm and max. 20 kg.
TÜV-SÜD certified for children up to 20 kg.
Material: 100 % Egyptian cotton

We photographed the carrier for you this time on both a four-month-old and a two-year-old girl :-)
BENEFITS:
Ergonomically shaped shoulder straps, with the possibility of crossing.
Magnetic chest buckle - you will find an example of how amazingly easy it is with her in the video :-)
Flexible and comfortable lumbar belt adjustable from 61 cm up to 125 cm.
Increasing backrest and seat width are adjustable for 2 months old babies up to a larger toddler (98-104 cm according to your child's dispositions).
The carrier has a drawstring that securely fixes the baby's head.
The ergonomic carrier includes shoulder strap protectors - so-called "bibs", which you will find in the waist belt pocket.
We produce the carrier in the Czech Republic and Slovakia, from certified materials.
And for which figure is the carrier suitable? We tried it for figures from women's size 34 to tall and stout men.
The babycarrier is suitable for front and back carrying.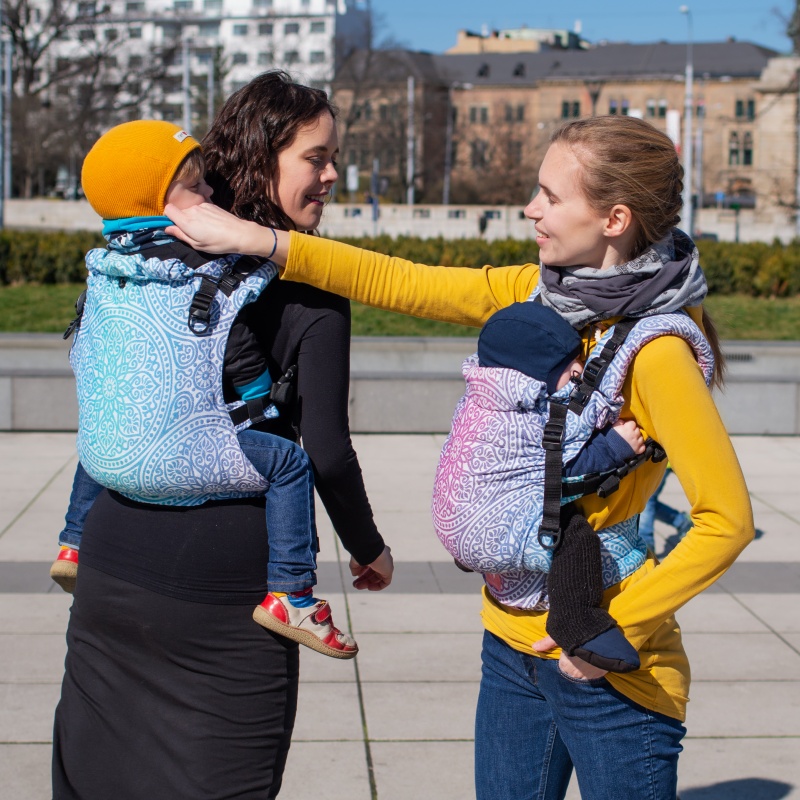 MAINTENANCE:
We recommend washing the Moisha Grow carrier before the first use. We finish the fabric before sewing with hot air, but washing will do an even better service to the fabric. So if you want the wearer to stay beautiful for as long as possible, give it a gentle bath first. :)
With normal minor soiling, only locally clean a specific area under running lukewarm water, or using a little mild detergent.


Use: from approx. 2 months approx. 58 cm to a child's height of approx. 98 cm and max. 20 kg.
Weight of substance used: 264 g / m
The yarns we use to make our fabrics are certified for use by children under 3 years of age - ÖEKO-TEX class I.
Moisha Grow carrier , manufactured by Moisha Wings s.r.o. meets the requirements of standard EN 13209-2: 2015.
If you use the Moisha Grow carrier for low birth weight children and children with health problems, consult a healthcare professional before using the product.
When using the Moisha Grow carrier , pay attention to objects that the child can reach (especially hot or sharp objects, open flames, etc.)
If the carrier is damaged or some of its components are missing, stop using the carrier and contact us.