The standard version includes: a carrier, a hoodie detachable by snaps and an instruction manual.

The extra features version has also: two shoulder straps covers.


One carrier for the whole babywearing period.

Thanks to the possibility of adjusting the width of the velcro panel, you can quickly adjust the baby carriers for both the baby and the older child (4 - 20 kg)
Ergonomically designed carrier provides closeness and constant touch between a baby and a parent, which is essential in building relationships. Thanks to a special design created after consulting physical therapists and sling advisors, certified buckles and fabrics safe for allergy sufferers, we can give you products that will meet even the highest expectations. Simple and comfortable adjustment system allows babywearing both by mom and dad in front and back carry positions.
4 - 20 kg
(From 4 to 48 m)
2-year
warranty period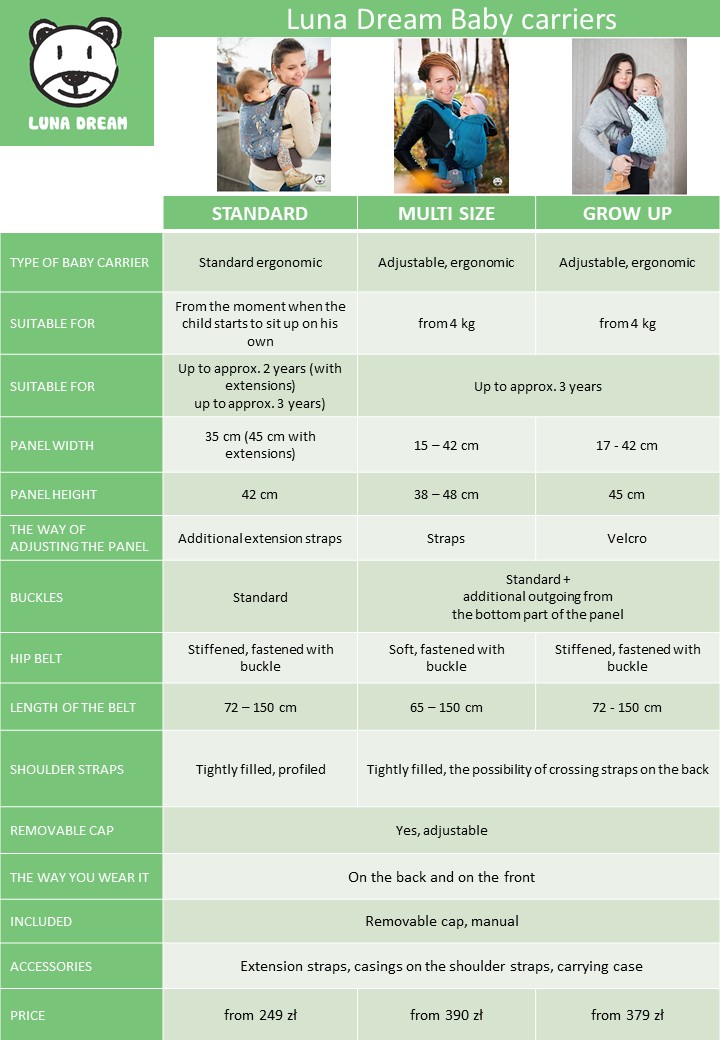 Each Luna Dream carrier allows front and back carries. Below you can find exemplary positions:
ADVANTAGES OF LUNA DREAM ERGONOMICALLY DESIGNED CARRIER
SAFE AND CERTIFIED MATERIALS
Certified buckles guarantee safety and reliable hold. All the materials used are certified with Oeko-Tex Standard 100, safe for allergy sufferers. .
THE HIGHEST QUALITY OF WORK
All the fabrics are woven in Poland. Each carrier is sewed manually, which results in precise and thorough finish. .
NATURAL POSITION
Luna Dream carriers were designed after consulting physical therapists and sling advisors. During babywearing, a baby is in a safe "M"position.